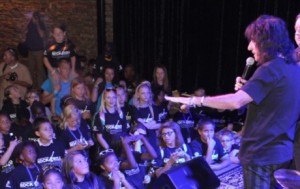 Charles C. Brennan is a Las Vegas businessman and the owner of Dollar Loan Center, which provides affordable loans to consumers. Success in business has given Charles C. Brennan the opportunity to invest in something he believes in. Heading back to his hometown, Charles C. Brennan created the Rock & Roll Academy where underserved children could learn music while also finding an outlet for their creative talents.
Charles C. Brennan recently welcomed a rock and roll legend to the Rock & Roll Academy. Alice Cooper joined Charles C. Brennan in an event to dedicate a new recording studio, which was named for one of Cooper's songs. As Charles C. Brennan explains, the studio will give students the chance to use an actual mixing board.
Recently, Charles C. Brennan spoke to Gathering of Experts and shared the words of advice Alice Cooper gave students at the Academy.
Gathering of Experts: How did Alice Cooper become such a staunch supporter of the Rock & Roll Academy?
Charles C. Brennan: My vision for the academy was inspired by Alice Cooper's own project in Phoenix, called the Solid Rock Foundation.
Gathering of Experts: Is that a rock and roll school, as well?
Charles C. Brennan: Alice Cooper's concept goes beyond music, offering dance and other artistic options to teens. But the idea behind both centers is the same. We provide a community for teens that helps keep them out of trouble and strengthen their talents.
Gathering of Experts: Isn't it true that a major misconception about Alice Cooper during his time was that he was a Satan-worshipper?
Charles C. Brennan: Complete misconception. He's actually a Christian. He leads a bible study these days, which is the complete opposite of those concerned parents' impression of him in the 70s and 80s.
Gathering of Experts: Is his religion connected to the work he does at his foundation?
Charles C. Brennan: He told us that this is his way of giving back to the community, of doing for others what he believes God would want him to do.
Gathering of Experts: Plus, he has the connection and resources to do it…
Charles C. Brennan: Exactly! There are some big names on his board, including accomplished dancer Sheryl Cooper and several prominent business people. When combined with Alice Cooper's passion for helping others, the board is doing great things.
Gathering of Experts: What advice did Alice Cooper give the Rock & Roll Academy students during his visit?
Charles C. Brennan: As he put it, music is the common denominator. No matter where people are from, if you gather a large variety of people together, the one thing they can all talk about is music. For that reason, these music academies provide a great place for children to learn and grow, as well as interact with their peers.
The former owner of well-known music venue Blitz Ballroom, Charles C. Brennan has worked with some of the biggest talents in the music industry. Charles C. Brennan has also recently welcomed KISS and Slash of Guns N' Roses fame to his academy.