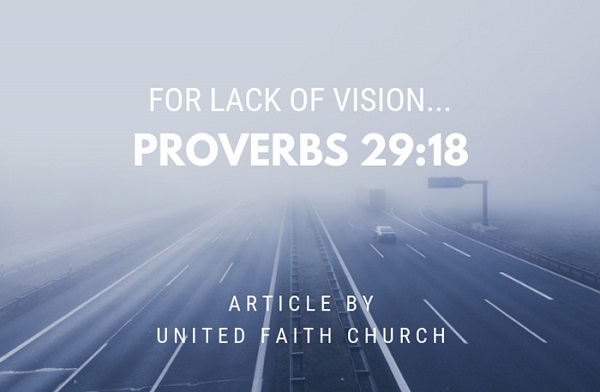 United Faith Church provides 3 KEY STEPS to follow in order to walk in GOD'S VISION. Pastors Jerry and Janeth Santiago are the senior pastors of United Faith Church in Barnegat, NJ.
"Where there is no vision, the people perish…" Proverbs 29:18
Revelation. Divine guidance. Prophetic vision. These are all terms used to describe the original Hebrew word for "vision" in the famous Proverb above.
We hear the word vision all of the time. Companies have visions for their path to success, athletes have a vision to reach their goals, and we routinely go to the eye doctor to examine our vision. But what exactly does it mean to have "vision" in God's Kingdom? United Faith Church is excited about their vision to touch the nations for Jesus Christ, which God placed on the hearts of Pastors Jerry and Janeth Santiago at the start of their ministry.
Night versus Day
When Jesus planned to return to Bethany to raise Lazarus from the dead, His disciples asked Jesus why He would risk going back there when last time He went, the Jews tried to stone Him.
Look at how Jesus responded.
"Jesus answered, "Are there not twelve hours of daylight? Anyone who walks in the daytime will not stumble, for they see by this world's light. It is when a person walks at night that they stumble, for they have no light"" (John 11:9-10).
Was it the light of the sun that Jesus was really speaking of here? Let's look at something else Jesus said to His disciples after healing a blind man.
"As long as it is day, we must do the works of him who sent me. Night is coming, when no one can work. While I am in the world, I am the light of the world" (John 9:4-5).
Jesus is explaining that just as we need sunlight to see during the day, we need His light in order to see in God's Kingdom. He was able to venture down a dangerous path because He had spiritual eyesight to see exactly where to go and not stumble along the way. This is vision. Without it, people perish; they stumble because they cannot see in the night.
To walk in the night is to have no understanding of God, doing whatever seems best, yet having no revelation of God's will for our lives. We want God to bless what we do without knowing whether it is what He wants for us. We trip and fall as we make decisions in darkness over the years, and we end up paying the price, stumbling with each step along the way. This is because we cannot see.
But God's desire is for us to see, which is why he sent his Light, his Son Jesus. To walk in the day is to see the way God sees. When we can see Jesus, we know the way to walk, and our plans prosper. We have vision for His will in our lives and the lives of our families. His light guides us on the path that will keep us close to Him and bring His Name glory.
United Faith Church teaches the importance of having vision which is modeled through the lives of Pastor Janeth Santiago and her family. Below are three key steps to follow in order to walk in the vision God has for our lives.
SEEKING
How do we get vision? Having vision means that we can see that our own ways keep us in darkness, but in the light of Jesus we can see His ways that lead to righteousness. Our eyes are opened to this vision through seeking; "…seek and you will find; knock and the door will be opened to you" (Matthew 7:7).
On our knees, we come into the Light. We cry out, Lord, show me the way! And we come to know the Light. God gives us spiritual eyes to see Him in everything. He helps us to take responsibility for our past, present, and future, and to make godly decisions according to the vision He puts in our hearts. No longer do we make decisions based on our own limited darkened understanding, but we look to God, the One who knows all things, to lead us. "Your word is a lamp unto my feet, a light on my path" (Psalm 119:105).  The beauty of being able to see is that it sets us on a straight path for our lives and for the future generations to follow.
CONNECTING
Next, we must learn to continually connect with God. Many have heard the verse "…I will never leave you nor forsake you" (Hebrews 13:5). If God never leaves us, why the need to seek and connect?
We see the heart of God in His word that says to trust in Him with all of our hearts, to not lean on our own understanding, and to acknowledge Him in all of our ways (Proverbs 3:6). When we do not look to God in all of our daily decisions, we disconnect from Him; even though He is there, we cannot see him just as a blind man cannot see the person standing in front of him. But if we connect to the Light, we can see Him, and we can hear Him. It is in the seeking and connecting that we come to know and walk in the Day and remain as children of the light.
REMAINING
Jesus said, "I have come into the world as light, so that whoever believes in me may not remain in darkness" (John 12:46). God's desire for us is that we come out of the darkness into the light and to remain in the light.
How do we remain? By daily living in the vision that God has given. Those living in the light cling to the word of God as the guide that directs their every step. The decisions they make for their families are in accordance with the divine vision of Christ Jesus and His plan for each of their lives. They carry in their hearts the dream that they and their children will be ministers and lovers of God for His glory and honor. Although they live in a dark world, they are not of it; by faith they come into the light of Day where they see their God and follow His leading.
This is what David spoke of when he said, "Even though I walk through the darkest valley, I will fear no evil, for you are with me…" (Psalm 23:4). When we remain in God, He lights our path and leads us in the way we should go in peace. The vision of God takes us beyond what we can do and even imagine and allows us to see God's plan for us in His Kingdom… "What no eye has seen, what no ear has heard, and what no human mind has conceived – the things God has prepared for those who love him" (1 Corinthians 2:9). Pastors Jerry and Janeth Santiago, along with the families of United Faith Church, have big dreams to touch many lives for God. Their vision extends to their children and the many generations to come.
For more info and articles, please visit www.unitedfaithchurch.org. United Faith Church is led by Pastors Jerry and Janeth Santiago.