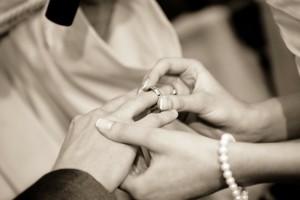 In today's expert interview, Kitchen Charm bridal coordinators dish on how to plan the perfect ceremony.
Q: Thank you for speaking with us. We know it's wedding season and understand that, as a member of the Canadian Bridal Registry, Kitchen Charm is quite busy this time of year!
Kitchen Charm: It may be wedding season, but it's also the perfect time of year to get engaged.
Q: Speaking of engagement, we're hoping to get some advice on what to do before you say "I do." Specifically, we're curious about an engagement timeline.
Kitchen Charm: Many couples get engaged one year or more from the date they plan to wed. This offers plenty of time to make things perfect.
Q: So what's the first step?
Kitchen Charm: Figure out your budget! Without knowing that, any other plans may not come to fruition.
Q: Is this a good time to hire a wedding consultant or coordinator?
Kitchen Charm: Absolutely. You can also jot down names and addresses for your guest list and pick two or three dates that work for you.
Q: Why two or three?
Kitchen Charm: Just in case the venue of your choice is booked on one of the days.
Q: Let's talk one year in advance. What should we do?
Kitchen Charm: Definitely hire a photographer. This early, you can let them know that the date is tentative and contingent upon securing a venue.
Q: And over the next few months?
Kitchen Charm: You'll want to begin planning your wedding theme, decor, and begin looking for a caterer.
Q: Is this a good time to pick other vendors, such as a florist and officiant?
Kitchen Charm: Absolutely. As you inch closer, you'll also want to pick which gift registries you'd like to sign up for.
Q: How far in advance do I need to plan music?
Kitchen Charm: If you're going to go with pre-recorded audio, you can put that off at this point. However, if you're going for a live band, start looking at least nine to 10 months in advance.
Q: Is it a good idea to buy the wedding dress six months ahead of time?
Kitchen Charm: Actually, you'll want to do that at least nine months in advance, especially if it is a custom gown.
Q: When do we get to plan the honeymoon?
Kitchen Charm: If you're going to be going out of the country, start at least six months before you want to leave.
Q: Is there anything else we should do by the eight month mark?
Kitchen Charm: This is an excellent time to select your wedding invitations. While you won't be sending these out for another few months, go ahead and order Save the Date cards. You'll want to send those out six months in advance.
Q: What are some things that can wait until the final three months before the ceremony?
Kitchen Charm: If you're not leaving on your honeymoon directly after the service, go ahead and plan for wedding night accommodations, order your cake, and procure clothing for the wedding party.
Q: We know there's quite a bit to do in the final weeks, but what is the most important?
Kitchen Charm: Getting the license! You would be surprised at how many couples forget about this until the last minute.
Q: Very good advice. We thank you for your time today and look forward to the new Kitchen Charm cookware catalog each year to find out what's cooking!
Kitchen Charm: It has been a pleasure.