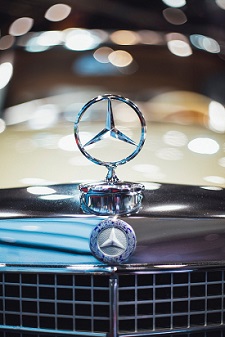 When it comes to German luxury cars, Mercedes-Benz is a crowd favorite. The engineering, style, and drive for innovation sets Mercedes-Benz apart from the rest. 
Just when you thought you knew all there is to know about the brand, here are more Mercedes-Benz facts that will impress you.
If you have any Mercedes-Benz repair and maintenance needs, make sure you reach out to GPO Tuning for help.
The Mercedes-Benz logo explained
Designed by co-founder Gottlieb Daimler, the three-pointed star represents the carmaker's dominance on air, land, and sea. 
The Mercedes-Benz brand name vehicles were first produced in 1926, following the merger of Karl Benz's and Gottlieb Daimler's companies into the Daimler-Benz. Mercedes-Benz is committed to delivering "the best or nothing" in everything it does, and it shows; it is one of the world's most admired companies, according to Fortune.com.
Mercedes-Benz has the papal seal of approval
Mercedes-Benz has been preferred by Catholic Church leaders for over 80 years. Models used by popes include the Nurburg 460 Pullman Saloon (Pope Pius XI), 600 Pullman Laudet and 300 SEL (Pope John XXIII). The name "popemobile" was first used in the 1980s to refer to the modified Mercedes-Benz G-Class used by Pope John Paul II for celebrations in St. Peter's Square. Pope Francis's popemobile is a modified Mercedes-Benz M Class.
Mercedes-Benz developed a premium bicycle range
Mercedes-Benz has a line of bicycles for two-wheel enthusiasts: the All-Mountain, which features DT Swiss suspension components, hydraulic disc brakes, and SRAM 30-speed gearing; the Fitness Bike, which has a front suspension fork, hydraulic disc brakes, and a minimalist, lightweight aluminum frame; and Trekking Bike, equipped with a dynamo-powered headlight, rear mudguard, and luggage rack. 
Mercedes-Benz recently collaborated with Argon-18 for the Mercedes-Benz Style Endurance Bike, a minimalist road bike designed in the Mercedes-Benz tradition.
Pop stars choose Mercedes-Benz
Proud Mercedes-Benz owners include Drake (Mercedes-Benz Maybach G650 Landaulet), Jennifer Lopez (Mercedes-Benz S Class), Beyonce (Mercedes-Benz McLaren SLR Supercar), Taylor Swift (Mercedes-Benz Viano), Mariah Carey (Mercedes-Benz SLK), Celine Dion (Mercedes-Benz Maybach 62), and Harry Styles (Mercedes-Benz SL Pagoda), even Janis Joplin sang "Oh Lord, won't you buy me a Mercedes Benz"
Yes, there's a Mercedes-Benz plated in 18k white gold
An enigmatic billionaire from Abu Dhabi, United Arab Emirates reportedly owns a Mercedes-Benz V-10 Quad Turbo made with white gold – valued at a whopping $2.5 million.
Mercedes-Benz has a self-driving truck
Known as the Actros, a fleet of these trucks traveled from Germany to Holland in 2016. The trucks are equipped with Highway Pilot Connect, a technology that allows the vehicles to communicate with each other and share road information. The trucks know when to speed up, slow down, turn, and brake.
It manufactures the world's longest sedan
At 6.5 meters, the Mercedes-Benz S-Class Pullman is the world's longest sedan to date. In comparison, the average sedan length is 4.7 meters. Mercedes-Benz pulled out all the stops and decked it out with spacious interiors, luxurious details, and exclusive color combinations.
Mercedes-Benz once had a car inspired by a boxfish
In the mid-90s, Mercedes-Benz designed a car inspired by nature. With the boxfish as its model, the company launched the Bionic, a concept car that symbolizes the synergy of biology, engineering, and design. 
The world's first-ever car was made possible by a woman
Engineer and Mercedes-Benz co-founder Carl Benz invented the world's first car: the Motorwagen, a three-wheeled vehicle powered by a rear-mounted single-cylinder engine. Many would be surprised to learn that his wife, Bertha Benz, financed the project.
Mercedes-Benz was partly named after the daughter of businessman Emil Jellinek, who first commissioned the first modern car, the Mercedes-Benz 35 HP. Co-founder Gottlieb Daimler believed the name brought in luck.
Mercedes-Benz race cars were once unpainted
The W25's aluminum frame was left bare at some point, as it was a kilogram over the weight requirement of the 1934 Nuremberg rally. Engineers had to remove the vehicle's paint to shed the excess weight. Mercedes F1 cars are now made with carbon fiber and are painted metallic silver as a tribute to its history.
A Mercedes-Benz appeared in Jurassic Park
The 1993 hit film featured a Mercedes-Benz ML 320. The car is on display at the Mercedes-Benz Museum in Stuttgart.
Mercedes-Benz was the first carmaker to mass-produce anti-lock braking systems (ABS) in 1978
Initially available in the S-class sedans, ABS allows the driver to control the steering wheel even during emergency braking.
Mercedes-Benz owners in Nashville can rely on ColorKraft Auto Refinishers (ColorKraftauto.com) for paint and bodywork, collision repair, dent repair, wheel repair, and car detailing services. Porsche, Audi, Volkswagen, and BMW models are also accepted for maintenance and repair. Schedule an appointment for Mercedes Benz repair or for other German Automobiles needing repair by calling 931.901.0238. German Performance Options (GPO Tuning) is Nashville's most trusted import repair shop. Get in touch with their service advisors by calling 615.248.9466.