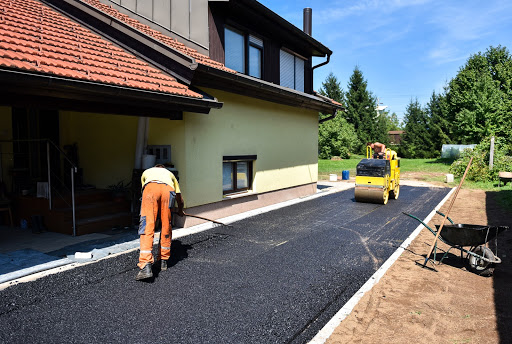 It can be said that a home is a reflection of its owners. Because of this, you always want to keep it looking as best as it can create a favorable first impression. Nice homes can have trimmed hedges, gates that aren't rusting, and walls that have a fresh coat of paint.
Unfortunately, we often overlook the state of our driveways. If the driveway is in poor condition or made of subpar material, it diminishes the overall appeal of our homes. Hiring an asphalt paving contractor should be a priority when doing home improvements, especially if the property is up for sale. 
Let's look at some of the paving materials available and discuss the pros and cons of each.
Stone/Gravel
We understand the appeal of gravel driveways. For one, these are very affordable; you can simply ask landscapers to drop a load of gravel on your property and rake it evenly across the surface. It drains well, too. 
However, it's difficult to remove snow piling up without disturbing the material. Strong storms can also wash out the gravel, and it doesn't do a great job of keeping weeds at bay. It's not advisable to use gravel as a long-term paving material due to the upkeep involved.
Concrete
There are property owners who consider concrete as the premium residential driveway surface option since it's expensive to install. 
On the other hand, concrete is not recommended for large surface areas and it easily becomes brittle when exposed to extreme temperature changes (i.e., cold and brutal winters) even when it's professionally installed. While asphalt can be affected by soaring temperatures, the heat we experience isn't as damaging to asphalt driveways the way freeze/thaw cycles can wreak havoc on concrete.
Brick
Just like concrete, brick driveways are considered premium. Individual blocks are strong, but there can be problems when they are laid out poorly and do not form a solid surface. Brick driveways are likewise prone to freeze/thaw cycles and do not prevent weeds from growing through the cracks.
Grass/Mud
If you live on a farm or in a rural area, guests can park their vehicles anywhere. This can result in mud and grass displacement. Additionally, guests may feel uncomfortable getting their vehicles or clothing dirty.
As a paving material for driveways, asphalt has several positive properties. It doesn't get washed out, and with regular sealcoating and maintenance work, it can withstand the elements. With proper care, asphalt can look good as new for decades, which improves your property's overall appeal.
Hargrove Sealcoating works with homeowners to complete asphalt driveway installation. Call us today to discuss asphalt paving solutions that are right for your home.
Serving Columbia, Spring Hill, Franklin, Brentwood, Thompson's Station, Lewisburg, Murfreesboro, and Nashville, Hargrove Sealcoating is an expert in asphalt paving. Call them today at 931.619.6718. One of their service advisors will be happy to assist you.