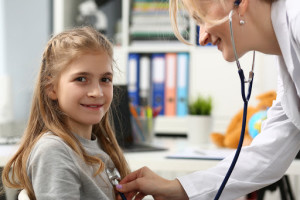 If you have ever driven by a walk-in clinic or pediatrician's office, you have probably seen signs advertising sports physicals. What are these, and why are they important? The coaches at Huntersville-based Everest Gymnastics explain in the following question and answer session.
Q: What is a sports physical?
Everest Gymnastics: A sports physical, which is also known as a preparticipation physical examination (PPE), is similar to the checkup that a child receives each year at the pediatrician's office. However, it focuses on the child's physical abilities to determine whether or not they are capable of safely participating in sports.
Q: Are they required?
Everest Gymnastics: Most states have laws in place that require young athletes to undergo a sports physical. Even in those states that don't, it is highly recommended.
Q: How are sports physicals performed?
Everest Gymnastics: The medical professional performing the exam will start with a full medical history. Once that is complete, the athlete will undergo a comprehensive physical.
Q: What kind of questions do they ask during the medical history?
Everest Gymnastics: They start with asking about any current conditions the athlete has or has ever experienced including asthma, epilepsy, or diabetes. They will then take a full family history. The doctor will also take into consideration any prior surgeries and known allergies.
Q: Do the exams consider past injuries?
Everest Gymnastics: Absolutely. They will discuss any prior bone fractures, concussions, or other injury incurred. It is important to be honest about injuries received both during and outside of athletics.
Q: Can you describe the physical examination process?
Everest Gymnastics: The medical professional will check the student's height and weight. They will further evaluate their flexibility, joint strength, and muscle composition. They will listen to their lungs and heart and use a small light to look into the throat, ears, and nose.
Q: Is a vision exam required?
Everest Gymnastics: The doctor or nurse will run a preliminary vision screening. If any issues are suspected, they will be referred to an optometrist for further evaluation.
Q: Is the sports physical the same for male and female athletes?
Everest Gymnastics: For the most part, yes, however, girls may also be asked questions about their menstrual cycle and will be encouraged to watch for irregularities. Athletes often experience missed periods, and this is something their doctor will want to monitor.
Q: Why is the sports physical important for athletes?
Everest Gymnastics: The sports physical and medical history serves as an opportunity for the athlete and their parents to learn about any potential issues that can inhibit their ability to perform safely. It will also allow time for their doctor to adjust any current medications to compensate for issues such as asthma or seasonal allergies. The doctor may also recommend specific exercises to improve physical condition before the student is released for full activity.