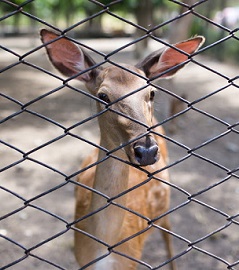 To many, deer are graceful and enchanting animals. It's easy to associate deer with the great outdoors and country living. Although they have a docile reputation, deer are also capable of destroying fruits, vegetables, and flowers in cultivated areas such as a garden or farm. If you live near an area with a large deer population, you can prevent this by having professional deer fence installation done on your property.
The Basics
Deer fences and posts are usually made from plastic or metal, but wood is also an unusual choice. While metal is more durable, plastic offers more variety in terms of style and color options. Think about your property's terrain, purpose, size, and cost implications when selecting a material to use. 
How High Should a Deer Fence Be?
The size of the deer and the kind of game that lives in your area will largely determine the height of your deer fence. A four-foot fence, for example, would be sufficient to keep out deer in the Florida Keys. In certain parts of the American Northwest, you will need a taller fence to protect your property from deer – and the occasional moose or elk.
A typical North American deer can easily clear a six-foot-high fence. An eight-foot-high one should keep even the strongest and most determined of them away from your garden, orchard, or farm. Consult with your local planning commission or check zoning regulations in your area to know all your options.
Deers are wonderful animals best observed from a respectful distance. With expert deer fence installation, you can enjoy the best of both worlds – nature's majesty and a safe, damage-free property.
Straight Shooter Game Fencing works with property owners throughout the US to provide the best deer fence installation, service, and fencing materials at competitive prices. Get in touch with us to know more.