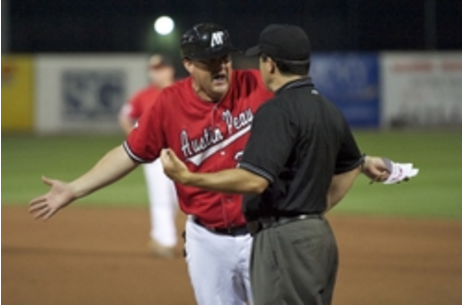 Former APSU baseball head coach Gary McClure saw his share of highs and lows during his long and illustrious career. In the following interview, the now-retired Gary McClure discusses breaking records and embracing losses.
Gathering of Experts: Good evening and thank you for taking the time out to speak with us today.
Gary McClure: It's my pleasure.
Gathering of Experts: Given your recent retirement, we would like to discuss some of your career highlights.
Gary McClure: My second year back in 1989 really sticks out because that was the year we were able to turn this program around from a talent standpoint and getting our guys to believe they could win at Austin Peay. That is one of the biggest hurdles to get over when there hasn't been a lot of winning. We were able to get to the conference tournament and play our way to the championship game finishing 2nd in our league. 2011 was a fantastic year. It was then that I passed Johnny Reagan as the all time leader for wins in the OVC. I'll never forget that moment! Truly though, nothing compares to the years we were successful on the field and able to accomplish our greatest feats as a team. That's true gratification.
Gathering of Experts: Johnny Reagan is an OVC Hall of Famer, correct?
Gary McClure: That's right, with a 776-504-11 record. Johnny's also one of the most classy people you will ever meet and he had many more accomplishments at Murray State. At one time he was the AD, and i believe he was both a baseball and basketball star there at one time.
Gathering of Experts: How long were you with the Governors?
Gary McClure: For 27 seasons. I started as the interim head coach in 1988. I was actually still finishing my graduate degree at the time.
Gathering of Experts: But it didn't take long for you to start raking in the victories…
Gary McClure: My first win as head coach was in February of '88, against Trevecca.
Gathering of Experts: How was your first full year as head coach?
Gary McClure: 1989 – We actually had the 2nd most wins in school history with 32. We also finished 2nd in the OVC tournament that year and were 1 win short of going to the NCAA Regional. It was a lot of work, but extremely fun for the players and coaches.
Gathering of Experts: You quickly became known as one of the best coaches in the OVC.
Gary McClure: Well, it took six years of hard work before anyone ever thought that! In 1994 we won the OVC regular season championship and unknowingly I became the Govs all time wins leader as well.
Gathering of Experts: You surpassed that record easily.
Gary McClure: I won't say it was easy. In athletics at that level nobody is going to make anything easy for you. And I definitely would not say I did it by myself. I had very good players that bought into what some very young coaches laid out for them. They had good attitudes and were very coachable
Gathering of Experts: 1994 was special for another reason, wasn't it?
Gary McClure: Yes very, as i mentioned before, we won the school's first championship since 1971. It was obviously my first as a head coach.
Gathering of Experts: And 1996?
Gary McClure: Many people have called the 1996 team the best in the program's history. I can't really argue that. We had a lot of great players who won 44 games and they took me to my first NCAA Regional as a coach. Also, when i look back at least 3 of the players on that team are in the Austin Peay Athletic Hall of Fame and close to 10 of  those players went on and played professionally.
Gathering of Experts: Like who?
Gary McClure: Third baseman Nate Manning, who was named OVC Player of the Year, and Craig Smith was bestowed the honor of Pitcher of the Year. Shortstop Chuck Abbott was a tremendous player and was the first draft pick by the Angels in 1996. We had hall of fame catcher Ryan Bennett, centerfielder Kent Brown, and RHP Mike Eikenberry, who were all selected in the draft. That team really had very good players all throughout the lineup
Gathering of Experts: After the 1996 season, the Govs kind of disappeared for a while. What happened?
Gary McClure: Well, we didn't really disappear although everyone has some ups and downs. It just we were just finishing in 2nd and 3rd some years and not winning championships. We were still right there banging on the door.
Gathering of Experts: Fast forward to 2003…
Gary McClure: We came back into the spotlight and actually had our first 3-Peayt with  back-to-back OVC regular season titles (2003 and 2004) and a OVC tournament championship in 2005 and got back to the NCAA Regional again that year.
Gathering of Experts: Out of all the games you coached, what would you say is the most memorable?
Gary McClure: Wow, i really can't pick just one, but the NCAA  game in 2007 against Vanderbilt was truly one of the most intense and competitive games i've seen or been a part of. They were No. 1 seed. We lost, but it was a fierce battle over 11 innings. Shawn Kelley matched up with David Price and he pitched for 10 of those and allowed just one run. It was a late error on what was truly a fluke play that finally got us in the 11th inning. It was an extremely heartbreaking loss for everyone, players, coaches, and fans. I would also have to say that our victories against Georgia Tech in the 2011 regional, Cal State Fullerton in the 2012 regional, and Florida in 2013, were very special. Etery championship game in our league was also very high on the list.
Gathering of Experts: Those all sound like exciting contests. As we're sure they all were. Thank you, Gary McClure for joining us today!